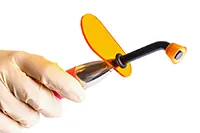 Laser Dentistry in Owings Mills, MD
What is Laser Dentistry?
As scientific studies are confirmed, lasers may be a good alternative to the traditional drill as anesthetic is not needed as often. The procedure is more precise and can reduce symptoms and healing times associated with traditional therapies. Lasers are often used for teeth whitening, ulcer excision, gum therapy, cavity preparation and removal of decay. In the future, laser technology may be used to prevent decay by increasing the strength of the tooth. Laser therapy cannot be used as an alternative for every procedure.
Benefits of using Laser dentistry
Dental lasers are actually among a family of instruments, according to the Academy of Laser Dentistry. Some lasers are used for surgical procedures, while others are used to "cure" or finalize restorative materials, enhance tooth bleaching, and others to remove tooth structure for elimination of disease and restoration.
Lasers, like other light sources, can be used to enhance the effectiveness of in-office peroxide bleaching agents. While this technique may be safe, the American Dental Association reports that it is hopeful of reviewing published data on the safety and effectiveness of laser whitening.
Unlike conventional dental instruments, lasers are whisper quiet. You may experience the sound of a rush of air, since air suction is often used to keep the area cool and cleaner. You should be able to relax and be comfortable while the dental laser is in use. Laser surgery allows the dentist to use less anesthesia. There also is significantly lower loss of blood, swelling, and postoperative discomfort.
For more information on Laser Dentistry in the Owings Mills, MD area call Mendelson Family Dentistry, PA at (410) 356-4100!