Posts for tag: smile makeover
By Mendelson Family Dentistry, PA
April 30, 2015
For some time now, you've noticed things about your teeth and gums — your overall smile — that you would like to change. But you're in unfamiliar territory: you don't know where to begin.
Here, then, are a few basic cosmetic dentistry questions you should ask yourself and us to get you moving in the right direction.
Am I a candidate for cosmetic dentistry? Invariably, the answer is yes — there's always a way to enhance your appearance, starting with basic hygiene or whitening. But whether you're a candidate for a particular procedure will depend on a full examination of your mouth — a "smile analysis" — to assess its current condition and needs, and what cosmetic options would best fit those needs.
Are my expectations realistic? That will first depend on what we find with your smile analysis. It will, however, also include studying the bigger picture — how certain changes might affect not only your smile but your overall facial appearance. Your wants and desires are extremely important in this process, but they should also be balanced with a dose of reality — some things may not be in your best interest health-wise to undertake, or are not in keeping with basic aesthetic principles of beauty.
Will I be able to have an idea beforehand how the changes will look? We've come a long way in providing patients ways to preview their new smile before undertaking a procedure. It's often possible to "see" your proposed smile through computer simulation, or in some cases "test drive" it with temporary (provisional) crowns or veneers. For restorations involving porcelain crowns, it may be possible to take your input and fine-tune the shape and color of the permanent crown before it's completed.
What will it cost? This will depend on the treatment plan we develop. Some treatments like teeth whitening are relatively inexpensive, while procedures like dental implants or orthodontics are major investments. You should also consider the costs to your time — some treatments require only a single visit, while others may take months or even years to complete. Depending on your financial means and comfort level, cost will need to be factored into the final plan, as well as your expectations.
If you would like more information on cosmetic dentistry, please contact us or schedule an appointment for a consultation. You can also learn more about this topic by reading the Dear Doctor magazine article "Cosmetic Dentistry: A Time for a Change."
By Mendelson Family Dentistry, PA
August 06, 2013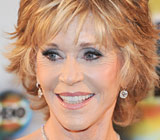 Not long ago, Jane Fonda gave a British interviewer a clue as to how she manages to look so young at her advanced age. During the 2011 Cannes Film Festival, the septuagenarian actress and fitness guru said to a journalist from the London-based Daily Mail, "See these teeth? They cost $55,000. It was teeth or a new car — and I opted for the teeth."
We think she made the right choice — though she might have overpaid just a tad. Most people don't have that kind of cash to spend on either a car or new teeth. But luckily, you can get either for a lot less — particularly the teeth!
The truth is, at a reasonable cost, cosmetic dentistry really can make you look a lot younger while giving your self-esteem a tremendous boost. It's an investment in both your emotional and oral health as we will never implement a smile makeover without first making sure we've addressed any underlying dental disease. Best of all, it doesn't have to cost anywhere near what you'd pay for the latest-model Jaguar, the price tag of Fonda's smile notwithstanding. Here is a list of the more common cosmetic dental techniques used to enhance a person's smile:
Whitening — a peroxide-based bleach is applied directly to the teeth to remove minor staining and discoloration.
Bonding — an acrylic material is applied to a tooth, colored and shaped to match the person's other teeth. Primarily used for chipped, broken or decayed teeth.
Enamel Shaping — the removal of very tiny amounts of enamel, the tooth's outer layer, for a more pleasing tooth shape.
Veneers — a thin shell of custom-designed tooth-colored material, usually porcelain, affixed to the front surface of the teeth.
Crowns and Bridgework — a technique that covers heavily damaged teeth or replaces missing teeth by capping them, or using capped teeth to support one or more false teeth.
Dental Implants — a small titanium post is surgically implanted in the jawbone to replace the root-part of a missing tooth. A lifelike crown is attached to the implant above the gum line and is the only part of the whole tooth restoration that is visible in the mouth.
Gum Contouring — a minor surgical procedure altering the position of the gum tissue to improve the look and regularity of the gum line around the teeth.
If you'd like more information on cosmetic dentistry, please contact us or schedule an appointment. To learn more, please read the Dear Doctor magazine articles, "Beautiful Smiles by Design" and "The impact of a Smile Makeover."
By Mendelson Family Dentistry, PA
April 04, 2013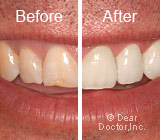 If you would like to improve the appearance of your smile, porcelain laminate veneers can whiten, brighten and even help straighten your teeth! Made of a thin layer of dental ceramic, porcelain veneers are physically bonded directly to the surface of your teeth, immediately enhancing your smile.
If you are considering a smile makeover, here are some other facts about porcelain laminate veneers that you might find interesting:
Dental porcelain is used to create veneers that mimic natural tooth enamel perfectly. They require the removal of a minimal amount of surface enamel before application — about 0.5 millimeters to be exact. Because of this reduction, porcelain laminates are considered to be an irreversible treatment. The end results are high-strength, durable, and natural looking translucent tooth-like restorations.
Fabricating a set of porcelain laminate veneers typically takes about a week, although times can vary. We will work closely with you and our dental laboratory technician to determine the exact color, shade and brightness that will best match your expectations for a new smile.
Porcelain laminate veneers are the best restorative option if you have teeth that are in good position and alignment. They are also an excellent solution if you have small gaps between your teeth, or if your teeth are asymmetrically shaped or discolored. Porcelain laminate veneers cannot correct poor tooth position, bite relations or a poor profile. In these cases, orthodontic treatment may be necessary first.
Porcelain laminate veneers can last anywhere from 7 to 20 years especially if the teeth they are bonded to don't undergo any major changes like gum line shrinkage, which may expose the root surfaces of the teeth.
Due to their glass-like structure porcelain veneers can break. You should avoid doing things that might stress them, like opening pistachio nuts with your teeth or eating candy apples.
If you would like to discuss improving your smile with us using these impeccable restorations, please call our office today to schedule a consultation. To learn more about porcelain laminate veneers, read the Dear Doctor magazine article "Smile Design Enhanced With Porcelain Veneers."