Posts for tag: periodontal surgery
By Mendelson Family Dentistry, PA
August 25, 2017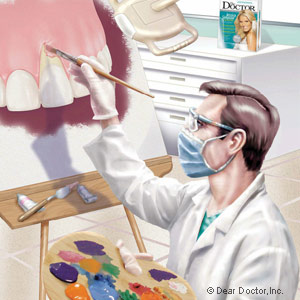 There's only one way to effectively halt the progressive damage of periodontal (gum) disease — completely remove the bacterial plaque and hardened deposits (calculus) from above and below the gum line that are causing the infection. Although we can accomplish this in most cases with hand instruments called scalers, ultra-sonic equipment or both, some cases may require periodontal surgery to access and clean deeper "pockets" of infection.
As this damaging disease progresses, the supporting bone dissolves and the gum tissues will begin to detach from a tooth, leaving an open space known as a "periodontal pocket." Besides plaque and calculus pus may also form as a result of the infection. All of this material must be removed from the pocket before healing and, hopefully, tissue reattachment can begin.
Shallow pockets near the gum line are usually accessed and cleaned with hand instruments. But deeper pockets (5 millimeters or greater in depth) may require a surgical procedure to completely clean the area also allowing for regenerative procedures to be done to regain attachment. This will reduce the depth of the periodontal pockets that will make them more accessible for future cleanings and maintenance. Flap surgery is a common type of such a procedure: a small opening (similar to the flap of a letter envelope) is surgically created in the gum tissue to expose the area of infection around the tooth root and bone.
There are also other types of periodontal surgery for repairing and stimulating regeneration of damaged gum tissues. Using grafts or other enhancements, these plastic surgical techniques are especially useful where gum tissues have receded above the natural gum line, leaving more of the underlying tooth below the enamel exposed to disease. These procedures have become more effective in recent years with the development of specialized technologies called "barrier membranes" and biologic growth factors. These materials have allowed bone grafts to be more successful as this technology is engineered for targeted tissue growth and repair, and then dissolve at an appropriate point in the regeneration process.
Periodontal surgery isn't appropriate for every situation. Still, these procedures do play an important role for many patients to put a halt to the damage caused by gum disease.
If you would like more information on surgical procedures for gum disease, please contact us or schedule an appointment for a consultation. You can also learn more about this topic by reading the Dear Doctor magazine article "Periodontal Surgery: Where Art Meets Science."
By Mendelson Family Dentistry, PA
August 01, 2017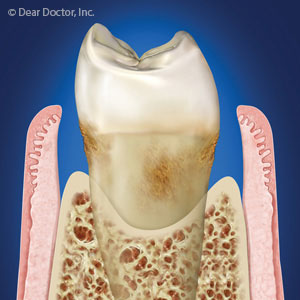 All treatments for periodontal (gum) disease focus on one goal — to remove any bacterial plaque and calculus (hardened plaque deposits) that are at the heart of the infection. Plaque is a thin surface film of food particles and bacteria that cause gum disease.
Plaque builds up on tooth surfaces due to inadequate oral hygiene. And as the disease progresses brushing and flossing won't be enough — you'll need our services and specialized equipment to fully remove the plaque and calculus. The basic technique is called scaling in which we remove plaque and calculus manually from tooth surfaces above and just a few millimeters below the gum line.
As the disease develops, though, the slight natural gap between teeth and gums may begin to increase to form voids known as periodontal pockets. Filled with infection, these pockets can extend below the gum line onto the roots of the tooth. If the pocket extends more than 4 millimeters, basic scaling may not be able to remove all of the plaque and calculus.
Periodontists (dentists who specialize in the treatment and care of gum tissues) can perform a surgical method to access these deeper areas. Known as flap surgery, this procedure aims not only to reach and disinfect periodontal pockets and root surfaces, but also repair damaged gum tissue and create a better environment for future hygiene and treatment.
As the name implies, we create an opening in the gum tissue with one side remaining attached to the gum structure — much like the flap of a paper envelope. Through this opening we're able to reach areas to remove plaque and calculus, as well as install both bone grafts to regenerate lost bone and growth factors to stimulate tissue growth. Once finished, we stitch the flap back into place with sutures and, in many cases, place a moldable dressing to protect and hold the flap secure while the incision heals.
This relatively minor procedure can be performed with local anesthesia and requires only a few days of recuperation. The results, though, can provide long-term benefits — reduced infection, better bone and gum health, and a more conducive environment for future maintenance of health — that could save your teeth and your smile for many years to come.
If you would like more information on treatments for gum disease, please contact us or schedule an appointment for a consultation. You can also learn more about this topic by reading the Dear Doctor magazine article "Periodontal Flap Surgery."
By Mendelson Family Dentistry, PA
December 12, 2013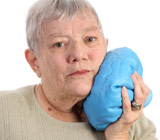 Today's periodontal (gum) surgical procedures are less painful and have fewer complications than ever before. Nevertheless, the best outcome still depends on how well you care for yourself as you recuperate. Here are some things you can do after surgery to lessen its effect.
In the first twenty-four hours after surgery, your primary objective is to prevent swelling, the major source of post-operative discomfort. You can accomplish this by applying an ice or cold pack to the outside of your face in the area of the surgery. It's best to alternate five minutes on and off with the pack for the outside, and ice chips, cold water or ice cream inside your mouth as often as possible. Your aim is to surround the surgical site with cold as much as you can with the five-minute on and off strategy.
You should eat only foods that are cold and soft (Jell-O™, applesauce, yogurt, ice cream, etc.), to help ease any swelling. The next day switch to hotter foods like soup, mashed potatoes or buttered pasta, as well as hot, salt water rinses as often as convenient. Avoid crumbly foods like chips, cookies or popcorn for a few days to help keep the incision site particle-free.
We typically prescribe a number of medications during recuperation: analgesics (usually of the aspirin or ibuprofen family) for swelling and pain, and antibiotics and antibacterial rinses to inhibit bacterial growth. Be sure to follow directions with each prescribed medication, taking the correct dosage and for the specified duration.
There is a possibility of post-operative bleeding — but don't panic. You should first attempt to locate the bleeding area, clean it, and then apply gentle pressure with moist, sterile gauze for ten to fifteen minutes. If the bleeding doesn't stop, give us a call.
You should keep the wound site as clean as possible to help avoid infection. However, don't brush, floss or rinse during the first twenty-four hours to avoid bleeding, and limit hygiene activities to antibacterial mouthrinses like chlorhexidine near the wound site for several days to weeks. During the first few days to a week after surgery avoid activities like strenuous exercise, drinking alcohol, sucking through a straw, or blowing up a balloon, as these can also increase your risk for bleeding. You should also avoid tobacco products during this time as these can inhibit the healing process. Each surgery is different and you should make sure you follow the specific instructions your surgeon will provide for you.
Taking these precautions will help keep discomfort and complications to a minimum. They will also help you recover quickly so that you can get back to your normal life.
If you would like more information on periodontal surgery and what to expect, please contact us or schedule an appointment for a consultation. You can also learn more about this topic by reading the Dear Doctor magazine article "Instructions Following Periodontal Surgery."