Posts for tag: clear orthodontic aligners
By Mendelson Family Dentistry, PA
November 15, 2013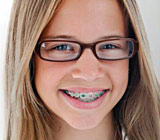 Maybe you had braces as a child, or you are thinking of having your own (it's never too late) or your child's teeth straightened through orthodontia. But how much do you really know about this branch of dentistry? Here are six questions people often ask about orthodontia.
Q. How did the word "orthodontia" originate?
A. From Latin roots meaning "straight" and "teeth"
Q. Teeth are anchored in bone. How is it possible to move them?
A. Living bone is not unchanging. The bone, ligament, and the outer layer of a tooth's root (called cementum) react to the stresses of biting and chewing. Due to this stimulation the bone is constantly being resorbed (broken down) and rebuilt as it is pushed from one side of a tooth and pulled from the other. Under normal conditions, there is a balance resulting in a steady state. Orthodontia takes advantage of this process to slowly change the teeth's position in the desired way.
Q. My dentist talks about the periodontal ligament. What does this mean?
A. The ligament is a fibrous tissue that connects the teeth to their bone and takes part in the dynamic process of resorption and rebuilding of the bone.
Q. What kinds of conditions can orthodontia correct?
A. Treatment can improve the teeth's position and relations to each other (being too crowded or badly spaced) and the way the upper and lower jaws relate. It can enhance the appearance of a person's teeth and face, and can also improve the teeth's function in biting and chewing.
Q. What is the best first step to orthodontic treatment?
A. Talk to your general dentist about your concerns. If you are referred to an orthodontist, the next step is to assess your situation using molds of your teeth that show the way the upper and lower teeth meet (your bite). Special x-rays will be taken to show the locations of your teeth and relation of your upper and lower jaw. Your dental team may also use photographs of your smile and computer imaging to get a clear view of how your teeth are now and how they may be moved.
Q. What are some of the methods of treatment?
A. In the traditional method, small metal brackets are attached to the crowns of the teeth. Thin wires, called arch wires, are strung through attachments on the brackets. These wires are used to apply controlled force to direct the teeth in the desired direction. Another method is to use removable clear plastic aligners. A series of aligners is designed by a computer, to be changed from one to the next as the positions of the teeth slowly change.
Contact us today to schedule an appointment to discuss your questions about braces and orthodontia. You can also learn more by reading the Dear Doctor magazine articles "Moving Teeth with Orthodontics" and "The Magic of Orthodontics."
By Mendelson Family Dentistry, PA
October 11, 2013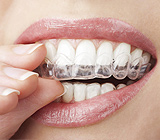 Metal braces for correcting teeth alignment have long been a fixture of adolescence. But although they're effective, they tend to put a crimp on a teenager's life with changes in diet and irritation and discomfort from the devices and regular adjustments. For many teens, though, these are minor compared to the change in their appearance that comes with traditional braces, and the embarrassment they may feel.
In recent years, there's been a growing use of another orthodontic device that reduces many of these inconveniences, especially regarding appearance. Known as the clear aligner, this transparent, "almost invisible" device can be taken out for eating, cleaning or important social events.
Clear aligners are a sequential set of clear trays made of polyurethane plastic that are generated for an individual patient using information derived from x-rays, photographs or models. Each tray in the sequence is slightly different from the previous one to account for the tooth movement achieved wearing the previous tray. The patient will wear a tray for about two weeks and then, if all looks well, move to the next tray. This process continues until the teeth arrive at the proper alignment, a period of about six to twenty-four months depending on the patient's initial condition and their progress.
Up until recently, aligners were a viable option for a limited category of patients, mainly adults. Recent advances have changed that. Aligners now include tiny "power ridges" that enable them to move teeth in more than one plane, something previous versions were unable to do. "Eruption tabs" can also be incorporated into aligner sets to hold the space for permanent teeth that haven't erupted yet — a must for many younger patients. We can also temporarily bond attachments to the teeth known as buttons (made with a composite that blends in with the natural tooth color) that give more leverage and stability to the aligner.
With these changes, clear aligners are now an effective choice for a wider group of patients, including many teens. Aligners are comfortable to wear, easy to care for, and for teens acutely conscious of their appearance, less obtrusive than traditional metal braces.
If you would like more information on clear aligners, please contact us or schedule an appointment for a consultation. You can also learn more about this topic by reading the Dear Doctor magazine article "Clear Aligners for Teens."