Posts for: August, 2020
By Mendelson Family Dentistry, PA
August 07, 2020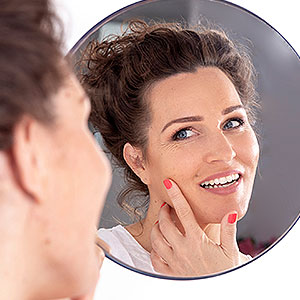 We all want to look young and vibrant, or at least "age gracefully." If you're seeking to reduce the visible effects of aging for a more youthful appearance, be sure you include one very important feature—your smile.
Like other aspects of body and health, our teeth and gums can be affected by aging. Even if you've managed for the most part to avoid the ravages of disease or injury, teeth will still naturally wear from a lifetime of biting and chewing food. The attractive shine of young teeth can also give way to yellowing and other discolorations later in life.
But there are ways to turn back the clock, so to speak, through cosmetic dentistry. And you won't necessarily break the bank to gain a more youthful smile: Many cosmetic procedures are quite affordable and minimally invasive.
If your teeth have become worn and edgy, for example, we may be able to soften those sharper edges with a dental drill. Known as enamel contouring (or reshaping), the single-visit procedure is relatively minor and inexpensive, usually without the need for anesthesia. For heavily worn teeth, you may need to step up to veneers, thin layers of tooth-colored porcelain, or crowns that cover the teeth and make them appear longer.
Mild enamel yellowing and staining often responds well to professional teeth whitening. Using a safe bleaching solution, we can temporarily restore brightness to your teeth that you may be able to maintain for a few years with proper care and occasional touchups. For a more permanent solution you can also turn to veneers, crowns or dental bonding for a brighter smile, especially for discolorations that don't respond well to teeth whitening.
While these techniques can restore a youthful appearance to your smile, don't discount the effect of daily care and regular dental visits. Brushing and flossing are fundamental to healthy teeth and gums—and health and beauty go hand in hand.
Age can take its toll on all of us, especially our smiles. But with proper care and perhaps a little cosmetic magic, you can have an attractive smile throughout your lifetime.
If you would like more information on improving your smile as you age, please contact us or schedule an appointment for a consultation. You can also learn more about this topic by reading the Dear Doctor magazine article "How Your Dentist Can Help You Look Younger."
By Mendelson Family Dentistry, PA
August 02, 2020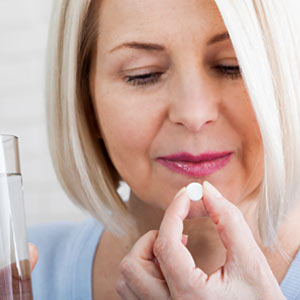 Dental implants are far and away the most "tooth-like" restoration available today for missing teeth. Not only do they look real, they also mimic dental anatomy in replacing the tooth root.
To install an implant, though, requires a minor surgical procedure. And, as with any surgery, that includes a slight risk for a post-surgical infection. For most patients this isn't a major concern—but it can be for people with certain medical conditions.
One way to lessen the risk for implant patients whose health could be jeopardized by an infection is to prescribe a prophylactic (preventive) antibiotic before implant surgery. The American Dental Association (ADA) recommends the measure for patients with artificial heart valves, a history of infective endocarditis, a heart transplant and other heart-related issues.
In the past, their recommendation also extended to people with joint replacements. But in conjunction with the American Academy of Orthopedic Surgery (AAOS), the ADA downgraded this recommendation a few years ago and left it to the physician's discretion. Indeed, some orthopedic surgeons do recommend antibiotic therapy for patients before surgical procedures like implantation for up to two years after joint replacement.
These changes reflect the ongoing debate over the proper use of antibiotics. In essence, this particular argument is over risks vs. benefits: Are pre-surgical antibiotics worth the lower infection risk for patients at low to moderate risk in return for increased risk of allergic reactions and other side effects from the antibiotic? Another driver in this debate is the deep concern over the effect current antibiotic practices are having on the increasing problem of antibiotic-resistant bacteria.
As a result, dentists and physicians alike are reevaluating practices like prophylactic antibiotics before procedures, becoming more selective on who receives it and even the dosage levels. Some studies have shown, for example, that a low 2-gram dose of amoxicillin an hour before the procedure can be effective with much lower risks for side effects.
If you're considering dental implants and you have a medical condition you think could be impacted by the procedure, discuss the matter with your dentist and physician. It may be that pre-surgical antibiotics would be a prudent choice for you.
If you would like more information on getting dental implants, please contact us or schedule an appointment for a consultation. You can also learn more about this topic by reading the Dear Doctor magazine article "Implants & Antibiotics."